Companies news
STS the Exclusive Digital Transformation Partner for Digital Transformation Jordan Conference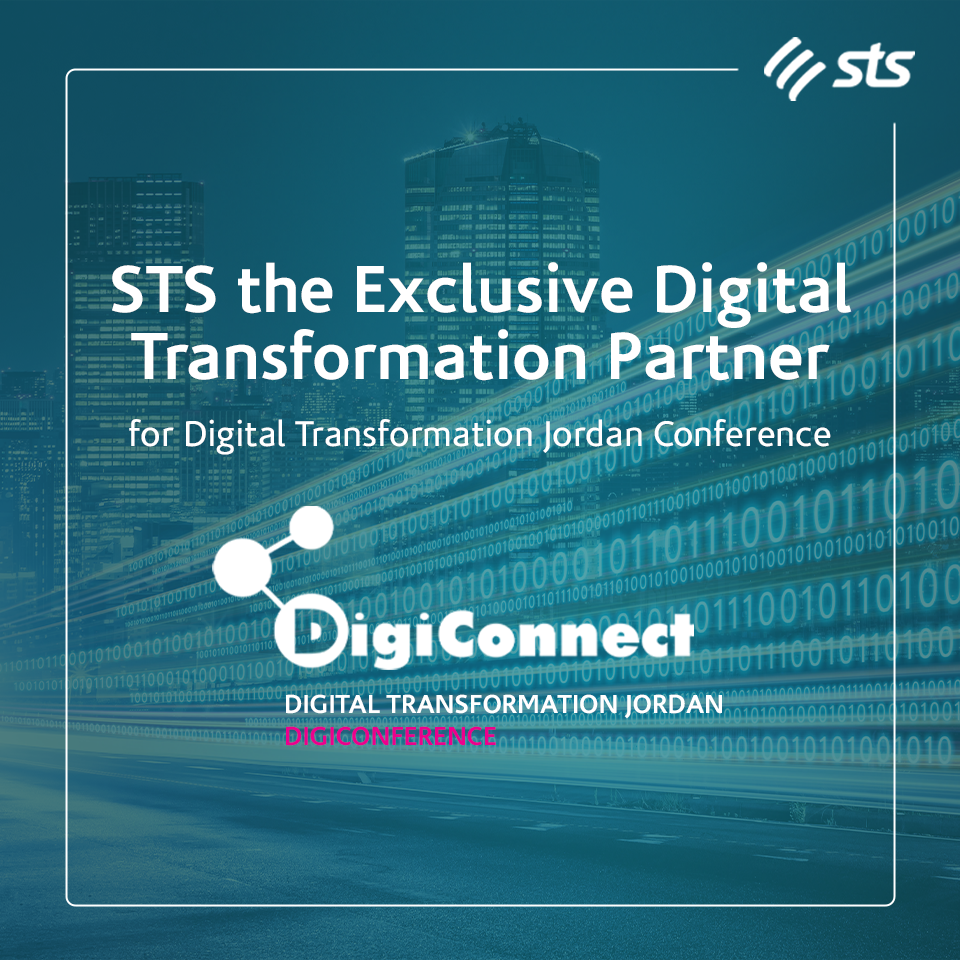 With the support of MODEE and His Excellency Ahmad Al Hanandeh, The Minister of Digital Economy and Entrepreneurship
Amman, September 12, 2021:
In line with its corporate identity of leading the digital transformation scene in Jordan and MENA; STS has announced its sponsorship as the Exclusive Digital Transformation Partner for the first edition of the Digital Transformation Jordan Conference, which will be taking place on Wednesday the 15th of September 2021.
With the Ministry of Digital Economy and Entrepreneurship, and its Minister, HE Ahmed Al Hanandeh, taking part as the Official Supporting Partner, the conference will host high-level leaders in the industry and will discuss the opportunities and challenges the country faces when it comes to digital transformation applications, and how to utilize these opportunities to achieve real changes in a realistic time frame, also include a series of panel discussions which will address specific topics of importance to the sector.
In line with their digital transformation efforts, STS is participating as the conference's Digital Transformation Partner, with its high-level leaders heading the cast along with H.E Ahmad Hanandeh, the Minister of Digital Economy and Entrepreneurship.
Commenting on the participation; Aiman Mazahreh, CO-Founder and CEO Of STS said: "At Jordan, efforts are being done from the government to elevate the positioning of Jordan from a digital perspective. We at STS take digital transformation as a requirement in order to upraise the levels of services provided to the citizens and align them with international standards to guarantee exceptional deliverables that are time and effort efficient".
"we see that the Jordanian sector is a winning horse that we can bet on to help make this a reality, and we are glad to be the digital transformation partner in the event and take it as a chance discuss the way forward in Jordan along with H.E Ahmed Al Hanandeh, enabling the country to build on the opportunities provided and elevate its ranking in terms of digital services and transformational efforts".
STS is committed to providing impeccable solutions in the various fields of technology enablement and digital transformation establishment for organizations and has led the way in easing this fast-paced transformation while accumulating business knowledge and technical up-to-date experience since its inception in 1989 and until this very moment.
---
About STS
Specialized Technical Services Company (STS), Jordan's leading ICT and digital transformation solutions provider, through its bold leadership, innovation and long field expertise since 1989, is confidently contributing to the digital transformation scene in the kingdom and the region. STS's success is driven by a commitment to delivering a peerless digital transformation journey to its clients and has expanded its offerings to embrace digital infrastructure containing advanced cloud solutions and managed services, cybersecurity offerings that are backed up with an advanced security operations center (STS SOC), training and licensing. Likewise, STS constantly strives to elevate digital experience throughout its offerings ranging from digital customer experience, digital workplace solutions and business intelligence BI services.
Through its long-standing partnerships with industry leaders such as Cisco Systems, Dell Technologies, IBM, Microsoft, Oracle, and many others, STS continues to serve multiple industries in financial, governmental, health, educational, telecommunications, and other commercial sectors in the MENA region.
visit our website: www.stsarabia.com
STS Offices:
Amman, Jordan (HQ)
Riyadh, KSA
Dubai, UAE
Manama, Bahrain
Ramallah, Palestine
Baghdad, Iraq
Media Contact:
Bara Al-Sharaireh
bara.alsharaireh(@)stsarabia.com
+ 962 799 3184 60