Companies news
Orange Jordan offers sign language in all its shops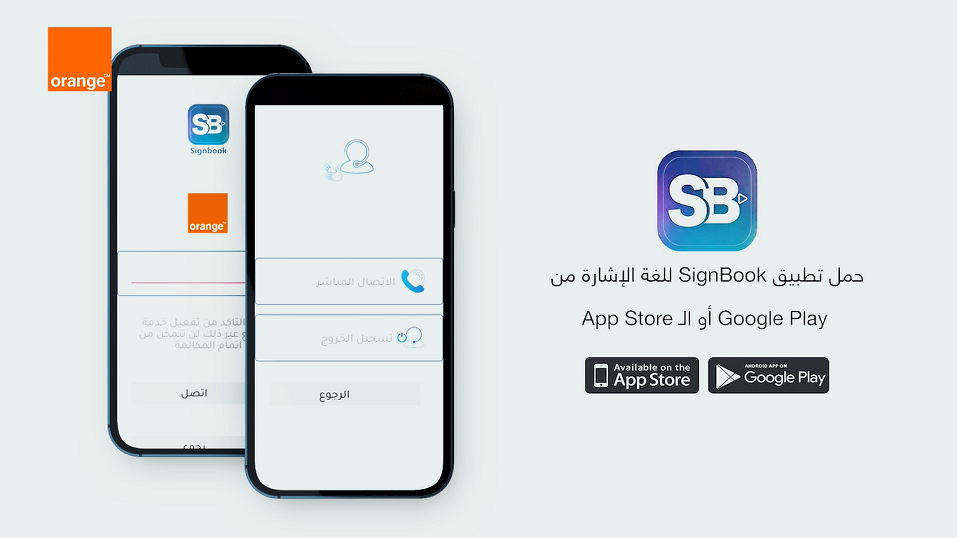 Orange Jordan announced that it now offers sign language in all its shops across the Kingdom to enable persons with hearing impairments to communicate in real-time and expand the beneficiaries of the SignBook application for smartphones after its success in 11 Orange shops.
The application is available on iOS and Android. Customers with hearing impairment can download the application to contact a sign language interpreter to receive services and technical support and efficiently communicate with employees when visiting any of Orange's 62 shops.
The application operates based on geolocation, as the customer has to be near the shop to use it, otherwise the application will not be effective.
Introducing sign language in all the Orange Jordan's shops falls under the company's umbrella "Differently abled, definitely enabled" aimed at enhancing accessibility of persons with disabilities to digital services and solutions in order to enable, empower and support them.
The umbrella is part of Orange Jordan's corporate social responsibility that focuses on digital inclusion as one of its main pillars, stemming from the company's role as a responsible digital leader.
The company asserted its continuous partnership with SignBook, the developer of the app and one of the startups that joined the sixth season of the growth acceleration program, BIG by Orange in 2019.
Orange Jordan said that it remains committed to supporting youth that come up with innovative projects that cater to different needs and aspirations and extending the contribution of startups in socioeconomic development.
The two parties continue to enhance the inclusion of persons with hearing impairments by providing sign language interpretation and audio explanation, including an agreement with the Jordanian Ministry of Health to offer SignBook in several health centers.
---
About Orange Jordan
Orange Jordan is a leading provider of integrated communications services, with a broad lineup of fixed, mobile, internet data, and managed digital services to meet personal and business markets needs of an expanding total base of about 3.2 million customers across the Kingdom. Over 1600 employees are dedicated to lead the company to ultimate levels of excellence. In 2007, the fixed line, mobile, and internet subsidies rebranded to Orange.
The company offers the best network, innovative digital solutions with unmatched customer experience by empowered Orange teams, to be the responsible digital leader in Jordan.
With massive investments in infrastructure and services, the company continues to move forward by introducing the most advanced technologies across the Kingdom, becoming the responsible digital leader in the kingdom.
Orange Jordan is one of Orange Group's subsidiaries that offer a wide range of communication services not only to individuals but also to businesses under the brand Orange Business Services (OBS), through which a comprehensive set of IT and telecommunication services are offered to multinational companies.
The company takes pride in seven core values: transparency, agility, results oriented, customer centricity, collaboration, caring and excellence.
Through its comprehensive corporate social responsibility strategy, Orange Jordan continues to make sustainable impact on the lives of Jordanians and their communities by focusing on 3 main pillars: digital education, digital inclusion and entrepreneurship.
To learn more about us, please visit our website: www.orange.jo
About Orange Group
Orange is one of the world's leading telecommunications operators with sales of 42.3 billion euros in 2020 and 142,000 employees worldwide at 31 December 2020, including 82,000 employees in France. The Group has a total customer base of 259 million customers worldwide at 31 December 2020, including 214 million mobile customers and 22 million fixed broadband customers. The Group is present in 26 countries. Orange is also a leading provider of global IT and telecommunication services to multinational companies, under the brand Orange Business Services. In December 2019, the Group presented its new "Engage 2025" strategic plan, which, guided by social and environmental accountability, aims to reinvent its operator model. While accelerating in growth areas and placing data and AI at the heart of its innovation model, the Group will be an attractive and responsible employer, adapted to emerging professions.
Orange is listed on Euronext Paris (symbol ORA) and on the New York Stock Exchange (symbol ORAN).
For more information on the internet and on your mobile: www.orange.com, www.orange-business.com or to follow us on Twitter: @orangegrouppr.
Orange and any other Orange product or service names included in this material are trademarks of Orange or Orange Brand Services Limited.