New members
New Members December - 2019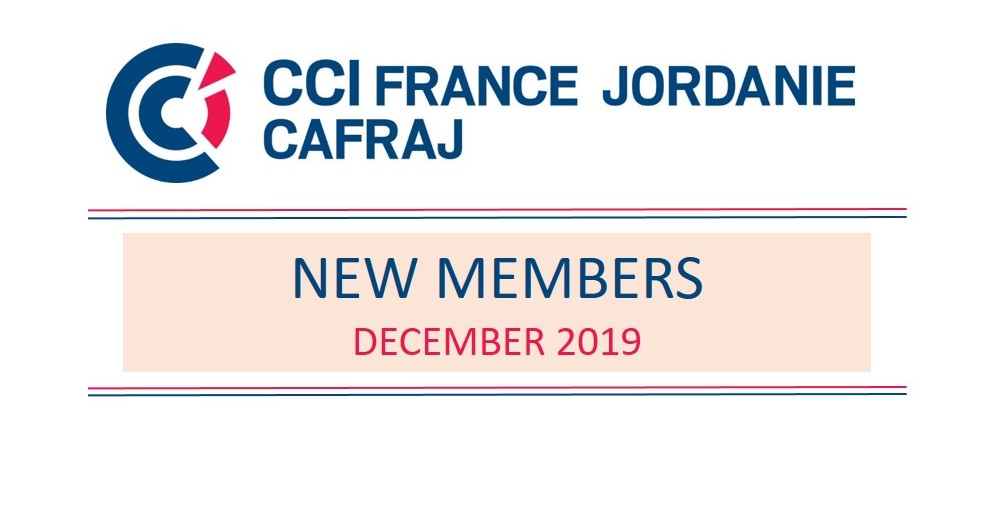 Discover the new members who joined the chamber in December 2019.
CHOCOLATE LAKE COMPANY FOR CHOCOLATE AND SWEET MANUFACTURING

Member: Mr. KHADER Ahmad
Address: P.O. Box Amman 11623 Jordan
Phone: + 962 6 4391110
Fax : +962 6 439 1120
Email : ahmad(@)chocolake.com.jo
Website : www.Chocolake.com.jo
GOLDEN INFORMATION AND COMMUNICATION – FRANCE SECTEC


Member: Mr. ATTIEH Ashraf
Address: P.O.Box 415301 Amman 11141 Jordan
Phone : +962 6200 6550
Email: ashraf@it-golden.com
Website: www.francesectec.com
HAMMOURI & PARTNERS ATTORNEYS AT-LAW

Hammouri & Partners Attorneys at-Law is a prominent multi-practice Jordanian law firm with presence in the legal market for over 25 years. The firm, through its three main departments (Litigation/Dispute Resolution, Corporate and International Advisory) serves both the domestic and the international client by providing diversified legal services covering an array of legal domains and industries, such as Corporate and Commercial, Litigation, Arbitration, International Trade and Transactions, Banking and Finance, Energy, Labour Law, IT, IP, Manufacturing, Healthcare, Pharmaceuticals, Insurance and others. The firm is ranked as a leading and/or recommended firm in the majority of the reputable international legal directories such as Chambers and Partners, Legal500, IFLR1000 and others and its client portfolio includes numerous market leaders both in Jordan as well as worldwide.
Member: Prof. HAMMOURI Mohammad
Address: P.O. Box 930084 – Amman, P.C. 11193 – Jordan
Phone: + 962-6-5691112/ + 962-6-5699590
Fax: + 962-6-5691128
Email: info@hammourilaw.com
Website: www.hammourilaw.com
88 ROOTS FOR HEALTH AND BEAUTY
Member: Mr. HAMMAD Qais
Address: P.O.Box 851690 Amman 11185 Jordan
Phone: +962 6 55 11 237
Fax: +962 6 55 11 239
Email: qaishammad05@gmail.com