Companies news
FINCA Partners with STS for a Complete Digital Overhaul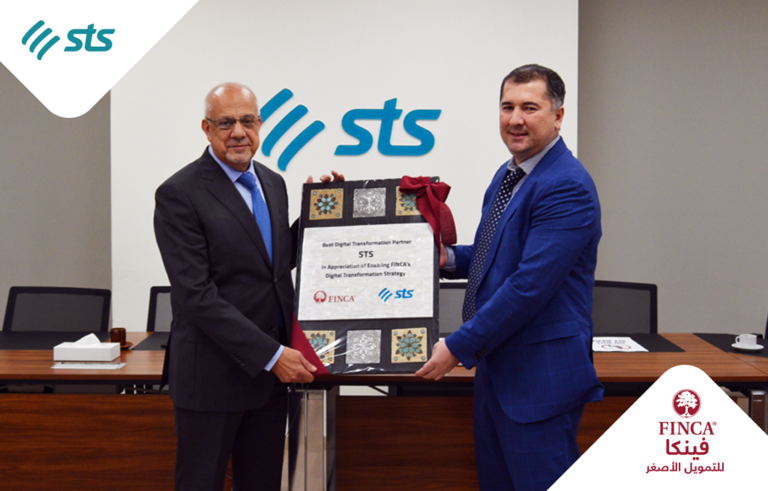 STS, the leading provider of digital transformation, information systems, and integrated Information and Communication Technologies (ICT) solutions in Jordan and the region; has announced today its successful partnership with FINCA Microfinance, which is one of the 20 subsidiaries of FINCA Impact Finance network. FINCA offers a variety of loan products specifically designed for individuals running micro, small and medium-sized enterprises.
FINCA takes the pride in quickly processing loan applications to ensure convenient service for their clients and exploring new technologies that will support their fast development of processes.
STS implemented an all-new Customer Relation Management Software (CRM) answering to FINCA's objective to transition from a traditional business model to an organization that operates in a dynamic, innovative and digital manner.
Based on multiple modules; the CRM will automate FINCA's lending process. Moreover, it will act as a centric system for customers data and achieve a full cycle between the different roles which means having an accelerated sales process and an overall service enhancement.
On behalf of FINCA Jordan, Mr. Abduqodir Sattorov, Executive Director of FINCA Microfinance, said: "In line with our FINCA Global Strategy which is digitizing our core business to improve efficiency and to better serve our customers. We are taking steady steps towards a real shift of our services from traditional microfinance to digital one with better and convenient experience for our employees and clients. It is vital for our industry to bring in automation and digitization to the table, and by investing in this CRM software, with subject matter experts such as STS, our network and teams can maximize their sales and serve customers faster and better than before".
Eng. Aiman Mazahreh, STS's Co-Founder and CEO said: "Our mission is to enable organizations embark on their digital transformation journey, and FINCA are on the right track to achieve an impactful digitization for their business. We at STS are excited to witness the outcomes and are looking forward to continue with this partnership to together reap the success of this transition".
Rami Hunaiti, Business Development Director, Cloud & Managed Services at STS said: "We are pleased that FINCA is benefiting from the newly deployed CRM due to its role in this transition from manual to digital, in addition to the numerous benefits that it provides under the automation umbrella".
STS is committed to providing impeccable solutions in the various fields of technology enablement and digital transformation for organizations since 1989 and until this very moment.
---
About STS
Specialized Technical Services Company (STS), Jordan's leading ICT and digital transformation solutions provider, through its bold leadership, innovation and long field expertise since 1989, is confidently contributing to the digital transformation scene in the kingdom and the region. STS's success is driven by a commitment to delivering a peerless digital transformation journey to its clients and has expanded its offerings to embrace digital infrastructure containing advanced cloud solutions and managed services, cybersecurity offerings that are backed up with an advanced security operations center (STS SOC), training and licensing. Likewise, STS constantly strives to elevate digital experience throughout its offerings ranging from digital customer experience, digital workplace solutions and business intelligence BI services.
Through its long-standing partnerships with industry leaders such as Cisco Systems, Dell Technologies, IBM, Microsoft, Oracle, and many others, STS continues to serve multiple industries in financial, governmental, health, educational, telecommunications, and other commercial sectors in the MENA region.
visit our website: www.stsarabia.com
STS Offices:
Amman, Jordan (HQ)
Riyadh, KSA
Dubai, UAE
Manama, Bahrain
Ramallah, Palestine
Baghdad, Iraq
Media Contact:
Bara Al-Sharaireh
bara.alsharaireh(@)stsarabia.com
+ 962 799 3184 60
---
About FINCA
FINCA Jordan is part of the FINCA Impact Finance Network, a group of 20 microfinance and financial institutions that provides socially responsible financial services and enables low-income entrepreneurs and small business owners to invest in the future.
FINCA Jordan began its work in late 2007,with the opening of the main office in Amman, and the continued expansion of disbursing loans from 9 branches in various regions of Jordan- Amman, Al-Zarqa', Jerash, Dair-Alla, Sahab, North Shonah Irbid and Madaba with five sub branches at Bani Kenanah , Al Salt , Al Russaifeh , Marka and recently Al Kourah Office.
FINCA Jordan continues its expansion with the aim of serving customers in various sectors and locations better by funding loans to increase the productivity of individuals and micro-and small enterprises in Jordan.
On December 20, 2017, FINCA Jordan received a microfinance license from the Central Bank of Jordan. It becomes the first microfinance institution to be fully licensed and regulated by the Central Bank. FINCA Jordan begins using the name FINCA Microfinance Jordan while providing responsible loans and financial services to customers throughout the country.
FINCA Jordan is part of Tanmeyah – Jordan Microfinance Network that was established and formally registered as a non-profit institution at the Ministry of Industry and Trade in 2007 and was incepted to become the representative of the microfinance institutions (MFIs) in Jordan, replacing the Microfinance Association of Jordan (MAJ). The Network's main objective is to develop a sustainable microfinance industry that will become an integral part of the national financial system in Jordan. Tanmeyah works at supporting the development of the microfinance sector in Jordan, by spreading advocacy and awareness on behalf of its MFIs members, as well as disseminating the up-to-date practices and developments of the microfinance sector. Fundamentally, the Network will focus its efforts to support the implementation of the appropriate regulation environment, which will lead to a healthy benchmarking criteria and set the performance standards that will be reflected positively on the sector as a whole.
On February 2020 ,FINCA Microfinance Company PLC (FINCA Jordan), FINCA Impact Finance's subsidiary in Jordan, it received Smart Certification in recognition of its long-standing commitment to client protection. This designation came after a rigorous independent review process found it has continued to uphold industry-leading client protection standards in providing responsible finance.