Companies news
To Meet the Increasing Demand for Data Protection STS Delivers Advanced Hybrid BaaS & SOCaaS Solutions to the King Hussein Cancer Foundation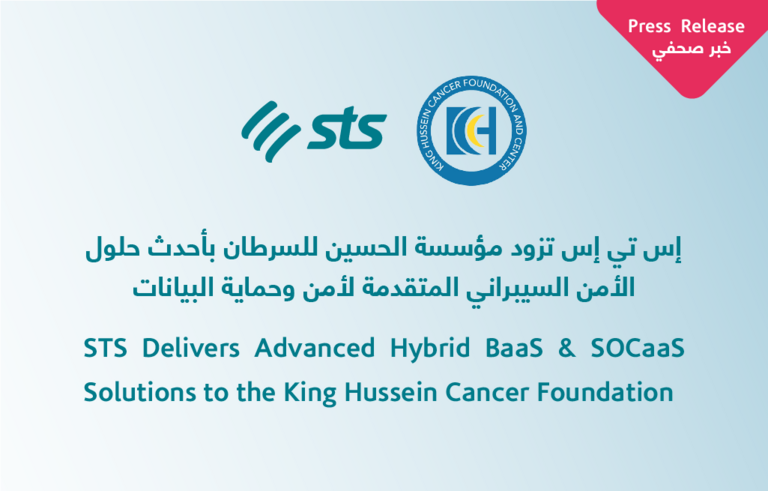 Amman-Jordan: STS, the leading provider of digital transformation, information systems, and integrated Information and Communication Technologies (ICT) solutions in the region, has announced today that it has successfully implemented an advanced hybrid Backup as a Service (BaaS) & Security Operations Center as a Service (SOCaaS) solutions at the King Hussein Cancer Foundation (KHCF) to stay in par with the rising demand for data protection.
This combination of the two innovative solutions provides more options for a secure, flexible, and scalable environment to meet the higher demands of the rising cyber security proactive measures. And while Backup as a Service (BaaS) is a managed service where data is stored in a secure, hybrid cloud or off-site cloud repository so data backup can be seamlessly and securely restored, SOCaaS provides KHCF in its managed service model with a metered usage access to STS advanced Security Operations Center to be able to have unparalleled visibility on their IT environment from a security perspective and be able to identify threats before they occur, a matter that will guarantee that the Foundation's critical data is available and protected at all times.
Additionally, STS will maintain providing KHCF with consultation and around-the-clock maintenance and support to the allocated services, to back up KHCF's journey towards a digitally transformed entity that includes the highest cyber security standards to ensure always-on data availability and avoid service interruption and operation downtime.
Commenting on this cooperation, Mr. Zeid Mazahreh, General Manager, Regional Sales at STS said: "We are proud to cooperate with KHCF, the leading entity in the health sector, to apply the latest backup & security solutions. As it is important for the health sector to be in line with the up-to-date cybersecurity and technology trends to be able to provide the best health experiences and at the same time protect the sensitivity of its patient's data".
STS is committed to providing impeccable solutions in the various fields of cyber security, technology enablement, and digital transformation establishment for organizations in the MENA region, leading the way in easing this fast-paced transformation while accumulating business knowledge and technical up-to-date experience since its inception in 1989 and until this very moment.