Companies news
Orange Jordan honors 2020 top Tawjihi achievers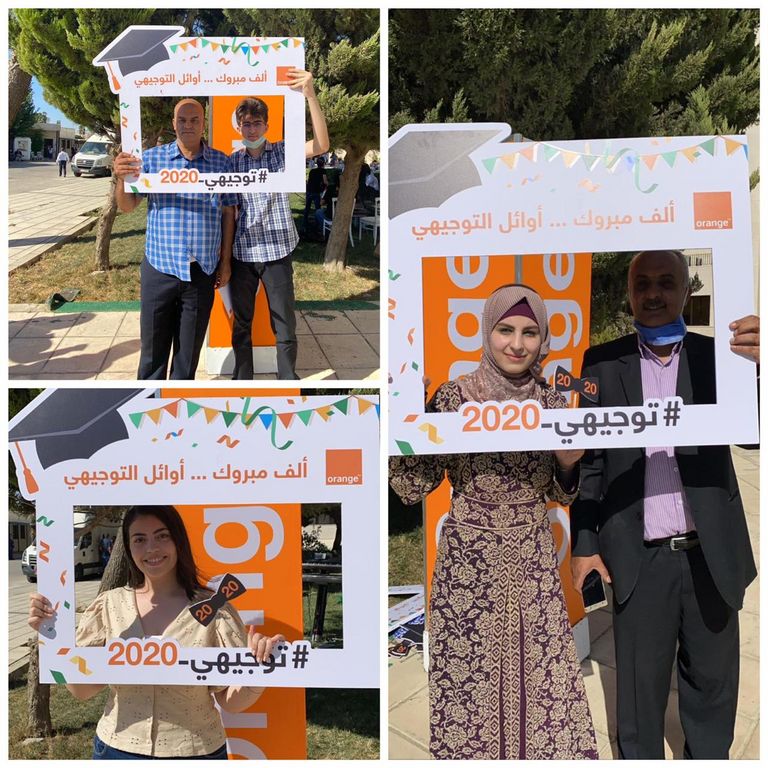 As an extension of its annual initiatives, Orange Jordan honored the top students who excelled in the General Secondary School Examination (Tawjihi) across the kingdom in an event that was broadcasted on Jordan TV's "Yised Sabahak" Program.
The event aimed to celebrate the students' distinguished success and to pay attribute to their efforts, considering the challenges that they have encountered to continue their education in unusual circumstances due to the Coronavirus pandemic.
Orange Jordan offered its exclusive sponsorship for the virtual press conference of the 2019-2020 Tawjihi Results Announcement, by providing the Ministry of Education with video conferencing solutions and covering it through its social media platforms. During the conference, the Minister of Education, Dr. Tayseer Nueimi, announced the results, communicated with the students and media representatives and praised Orange Jordan's active role in facilitating holding the event by providing the ministry with the needed infrastructure.
Orange Jordan granted the outstanding students several gifts that included: a free 12-month subscription of YO 10 prepaid line, which is featured with its 25 GB internet bundle, and unlimited calls on all local networks, a one-year of free subscription on a 120 MB/s Fiber line, and JD150 balance in Orange Money e-wallet.
The company was keen to select the gifts carefully to meet the youth's needs for advanced internet and communication solutions. The YO lines are so popular among the youth because of the diverse and inclusive options, while the Fiber, is the fastest and most powerful internet solution that serves the different needs. On the other hand, Orange Money, Orange's e-wallet, facilitates the performance of financial transactions, especially with the increasing importance of e-payment.
The CEO of Orange Jordan Thierry Marigny said: "We are proud of the results achieved by the Tawjihi students, and how they excelled and succeeded by adapting to emergent circumstances"
Marigny stressed that the company is keen to carry out this initiative every year through which it provides advanced communication solutions top Tawjihi achievers to encourage educational excellence and support youth in the Kingdom, noting that it is stemmed from its corporate social responsibility strategy and its role as a responsible digital leader.
Mr. Marigny affirmed that the company is committed to enhancing youth's participation in the socio-economic development, especially by encouraging the culture of excellence and deploying modern technology to elevate the educational outcomes for a better future, through its programs and collaboration with various educational institutions in the Kingdom.
He also pointed out that Orange Jordan offered the student the opportunity to benefit from Orange Money services, which deploy technology to ease all life aspects and save time and effort.
The Chief Consumer Market Officer, Mrs. Naila Al Dawoud, said that by honoring Tawjihi students, Orange Jordan seeks to offer them the best solutions to benefit from the online experiences and telecom services, noting that the company's different, added-value, initiatives that tackled e-learning has shown its commitment towards education, especially in the time of remote education.
-End-
---
About Orange Jordan
Orange Jordan is a leading provider of multi telecom services, offering a broad lineup of fixed, mobile, internet and data services to meet personal and business needs of expanding residential and business base of about 5 million customers across the Kingdom. Over 1600 employees are dedicated to lead the company to ultimate levels of excellence.
The company, also, stands as the provider of the strongest Internet for its mobile, home and business customers, via the most advanced infrastructure. As Orange Jordan continues to invest in all its networks, it also stands as the sole provider of the latest version of the fourth-generation network (4G+) and serves the largest share of Fiber customers in the local market.
Orange Jordan is one of Orange Group's subsidiaries that offer a wide range of communication services not only to individuals but also to businesses under the brand Orange Business Services (OBS), through which a comprehensive set of IT and telecommunication services are offered to multinational companies.
The company's sustainable Corporate Social Responsibility strategy focuses on empowering youth, women and people with disabilities in three main areas: Digital inclusion, Digital Education and Entrepreneurship via its Community Digital Centers, Startups Innovation Growth Accelerator (BIG), Orange Coding Academy, Scholarships for students majoring in technological Disciples, Universities' Innovation Labs, and Digital Accessibility program "Differently Abled, Definitely Enabled".
In December 2019, Orange Group announced the strategic plan for the coming five years, Engage 2025, which aims to reinvent Orange's operator model, accelerate in growth areas, place data and AI at the heart of its innovation model and build the company of tomorrow.
This new strategy is considered a work frame and a strong local commitment guided by social and environmental responsibility, as it will embrace fostering a business model that is devoted and liable to its employees, customers and society as a whole.
It also sets the group and its subsidiaries committed to tackling the climate challenge, by dedicating the efforts to achieve carbon neutrality by 2040.
To learn more about us, please visit our website: www.orange.jo
About Orange
Orange is one of the world's leading telecommunications operators with sales of 41 billion euros in 2018 and 148,000 employees worldwide at 30 September 2019, including 88,000 employees in France. The Group has a total customer base of 268 million customers worldwide at 30 September 2019, including 209 million mobile customers and 21million fixed broadband customers. The Group is present in 26 countries. Orange is also a leading provider of global IT and telecommunication services to multinational companies, under the brand Orange Business Services. In December 2019, the Group presented its new "Engage 2025" strategic plan, which, guided by social and environmental accountability, aims to reinvent its operator model. While accelerating in growth areas and placing data and AI at the heart of its innovation model, the Group will be an attractive and responsible employer, adapted to emerging professions.
Orange is listed on Euronext Paris (symbol ORA) and on the New York Stock Exchange (symbol ORAN).