New members
New Members March - April 2019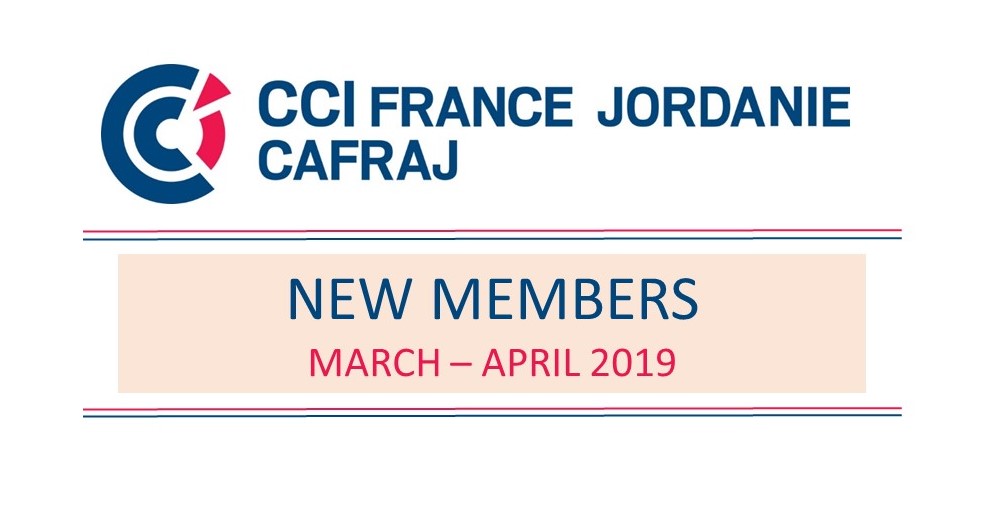 Discover the new members who joined the chamber in March-April 2019.
AL FAR TRADE SERVICES BUREAU
Al-Far T.S.B. was established in 1991 to provide a professional level of expertise of Commercial Kitchen, Bakery and Laundry Equipment and quickly became recognized as the leading specialists, being the most trusted and reliable for the supply of equipment, professional installation, service and spare parts supply.
We have grown extensively and additionally we now provide a comprehensive service from concept development, complete AutoCAD design, MEP layouts to comprehensive operations planning.
Member: FAR Suleiman
Address: P.O.Box 927361 Amman 11190 Jordan
Phone: +962 6 5868841 / +962 6 5868842
Fax: +962 6 5868843
Email: suleiman@alfar-tsb.com
Website: www.alfar-tsb.com
Interbrands
Interbrands started operating in Jordan in 2000, and has been growing ever since at a steady and encouraging pace. The company distributes FMCG products, home appliances and electronics.
Today, Interbrands holds a significant share of the market within the fast moving consumer goods business in Jordan and has been able to gain the respect and confidence of multinational suppliers.
Member: FARAH Khaled
Address: P.O.Box 851079 Amman 11185 Jordan.
Phone: + 962 6 416 8003
Fax: + 962 6 416 8006
Email: khaled.farah@interbrands.com.jo
Natures Rule FZE
Nature's Rule is a group of companies specialized in the distribution of food, health supplements, vitamins and the like products.
Member: Mohammad Hammoudi
Address: OFFICE 1134, JFAZA ONE JEBEL ALI, DUBAI UNITED ARAB EMIRATES.
Phone: +962 790 433 992
Email: mhasan(@)naturesrule.com
Website: www.naturesrule.com
RUQN AL HANDASA

RUQN AL HANDASA is well qualified to provide a complete range of consulting engineering services for clients in both the public and private sectors, working in close cooperation with the employer to achieve the best possible economical design of the project that will satisfy the requirement of the parties concerned.
Member: SWEISS Rukni
Address: P.O. Box 851079 Amman 11185 Jordan
Phone: +962 6 4650188 / +962 6 4653344
Fax: +962 6 4653342
Email: rukni@rukn.com
Website: www.ruqn.com
United Business Applications (UBA)
United Business Applications (UBA) is a full-fledged Jordanian company that has grown since its inception in 2001 to become a regional leader in providing ERP, CRM and Mobile solutions. UBA is the first SageCRM Development Partner in the Middle East and a leading Sage Accpac business partner & solutions provider. We are the first company to customize and sell SageCRM vertical solutions in the region, supporting more than 2000 users and successfully implementing more than 100 projects region-wide.
Member: AL BAWAB Hazem
Address: P.O.Box 942181 Amman 11194 Jordan.
Phone: + 962 6 565 3003
Fax: + 962 6 565 9009
Email: hbawab(@)uba.com.jo
Website: www.uba.com.jo
Sami Naim Snobar Contracting
Member: SNOBAR Sami
Address: Shmeissani Alal El Fasi Bldg No 25
Phone: + 962 79 66 11411
Email: samisnobar@yahoo.com