New members
New Members January - February 2019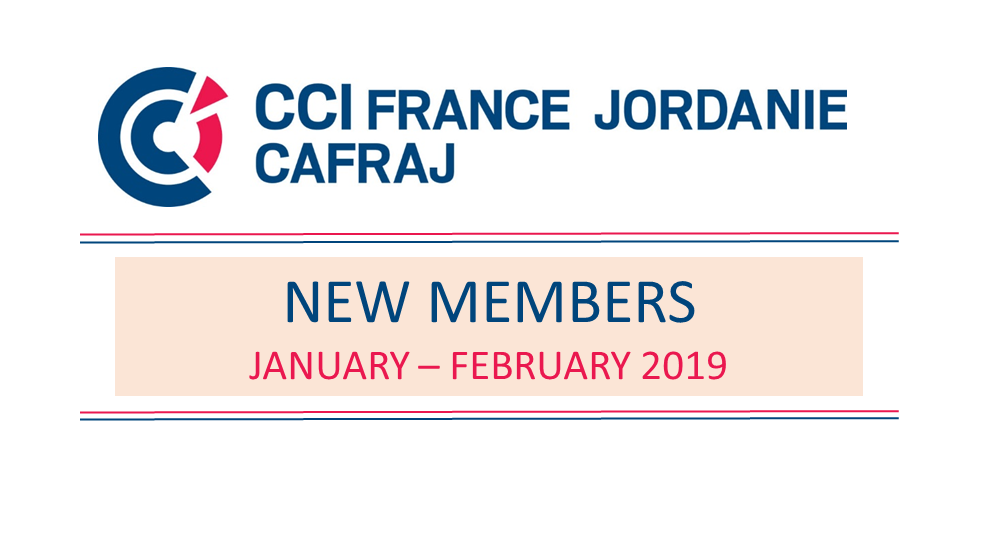 Discover the new members who joined the chamber in January-February 2019.
MERIDIAM JORDAN PSC.

Meridiam is an independent, global investment firm specialized in the sustainable development, financing, and management of long-term public infrastructure projects that deliver real and sustainable value to the communities through its unique 25-year fund horizon. From its offices in Paris, New York, Toronto, Istanbul, Dakar, Luxembourg, and Amman, Meridiam is active in five continents and currently manages approximately €7 billion across 70 projects. Meridiam has been named Global Infrastructure Fund of the Year on numerous occasions. In 2018,
Meridiam purchased part of the Airport International Group, the company responsible for operation of the Queen Alia International Airport.
Address: Amman, Jordan
Phone: +962 79 990 55 68
Email: j.hreibe(@)meridiam.com
GLISTEN COMPANY
The glisten company has been established in the year 2000. We are specialized in the field of international brands, such as:
Ecco, a danish brand for shoes and bags.
DELSEY Paris, a French brand for luggage and travel accessories.
Samsonite, an American brand for luggage and travel accessories.
Address: P.O. Box 3720 Amman 11821 Jordan
Phone: +962 6 582 82 98
Email: info(@)glisten.jo
Website: www.glisten.jo
ADONIS TRAVEL & TOURISM
Adonis Travel & Tourism a été établi dans la région MENA en 1981 comme une entreprise de voyage indépendante.
Spécialisée sur le Liban, la Jordanie, Dubaï et Oman, l'agence propose des services de qualité et des voyages uniques, mettant l'accent sur la richesse historique, la diversité culturelle et la nature.
Address: P.O. Box 142930 Amman 11844 Jordan.
Phone: +962 552 79 92
Fax: +962 552 96 68
Email: ceo@adonisjordan.net
Website: www.adonistravel.com
MODERN AMERICAN SCHOOL
An elite international school situated in west Amman, the capital of Jordan. Here at MAS, we foster an environment of academic excellence, as well as multicultural appreciation. Our school is co-educational and caters to all levels of both primary and secondary school, with a kindergarten, an elementary school, a middle school, and a high school. Each school has its own staff of highly trained teachers and administrators from 22 different countries, including the US, Canada, the UK, and Australia, in order to meet the individual needs of every student at every level of education.
Address: P.O. Box 950553 Amman 11195 Jordan.
Phone: +962 6 581 00 27
Fax: +962 6 581 68 60
Email: omaya.zamel(@)mas.edu.jo
Website: www.mas.edu.jo
ATELIER-D / DOLLY SAMIR BURSHEH OFFICE
ATELIER-D, is an architectural & interior design firm. Which offers full Consultation and engineering services in both fields of Design & Site Supervision. It has also specialized in Media TV Sets design as side activity.
ATELIER-D, has been established following 15 years of solid experience in the field both in Jordan and Gulf countries. It has capacity and capabilities to manage projects of variable genre and size. Currently working on Banking projects, Residential and Corporate.
Address: P.O. Box 1620 Amman 11953 Jordan.
Phone : +962 6 592 02 05
Fax : +962 6 592 02 08
Email: d.bursheh(@)a-telier-d.com
Website: www.a-telier-d.com
AL MASDAR FOR LIGHTING
Alfarouk Stores, celebrating its 50th anniversary established in 1958, Consist of three major branches down town Almusdar and Jabal Amman third circle and Um Alsumaq, one of the first and elite stores for lighting fixtures indoors and outdoors situated in Amman. A unique lighting company, fully achieved its goals of helping to spread illumination all over Jordan and within, bringing light and design of our collection inside and outside house and office, we are agents for unique European lighting companies such as Disano and Fosnova from Italy Lighting up UK and many other companies. Our work is essential and seen in all our lighting main projects in Jordan We would appreciate the possibility of adding our company name in your list for your future projects and your present ones.
Address: P.O. Box 3706 Amman 11821 Jordan.
Phone: + 962 6 581 02 80
Phone: + 962 79 294 95 50
Fax: + 962 6 581 45 56
E-mail: info(@)alfarouklighting.com
Website: www.alfarouklighting.com
SETI JORDAN LTD
Since its foundation in 1966, S.E.T.I. Jordan Ltd has been a pioneer within the business community in Jordan, where we have proudly been the official and sole distributor for Cummins Inc., the leading manufacturer of diesel engines and power generator sets in the world.
Address: P.O. Box 597 Amman 11118 Jordan.
Phone : +962 6 582 42 61
Fax : +962 6 585 68 54
Email: basem.hakim(@)setijo.com
Website: www.setijo.com
SHABAN GROUP/BASIC COMMODITY FOR TRADE CO.
As one of the leading companies in the field of food products and the holder of the biggest market share of basic foodstuffs distribution across the Kingdom, Shaban Group believes wholeheartedly that it has an unwavering commitment to customer care. To that end, Shaban Group ensures that the group's food products are used in the most luxurious food dishes. For more than 70 years, we pay the great attention to the consumer when introducing a new product, that's why Shaban group's trademarks became the best one throughout Kingdom.
Address: P.O. Box 7013 Amman 11118 Jordan.
Phone: +962 6 471 63 33
Phone: +962 6 471 63 34
Email: shgroup(@)orange.jo
Website: http://shaban-group.net/
SIDNAYA FOR TRADING & MARKETING
It's a marketing and trading company, based in Amman, Jordan. working with alcohol and energy drinks.
Address: P.O. Box 3706 Amman 11821 Jordan.
Phone: + 962 6 581 17 04
Fax: + 962 6 582 53 35