Companies news
Naouri Group: King Abdullah II Ibn Al Hussein Order for Distinction of the First Degree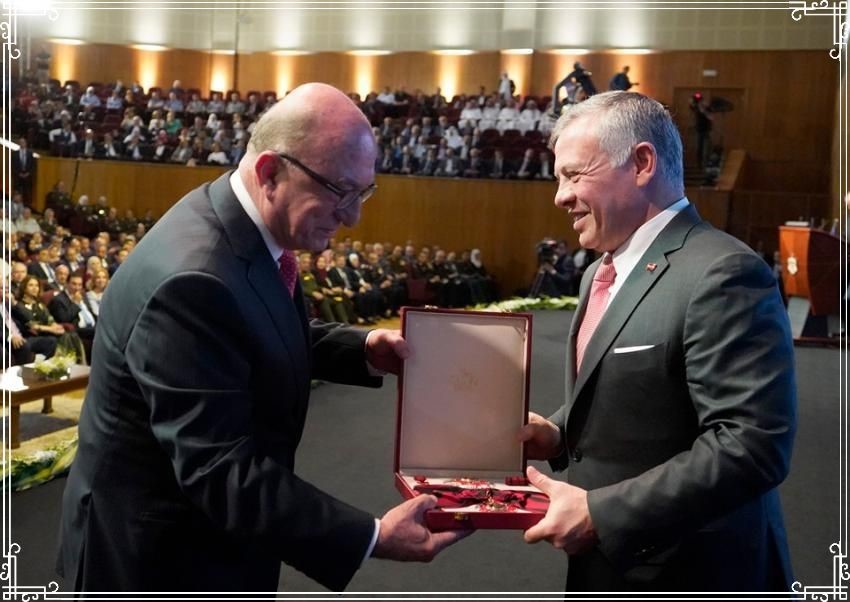 His Majesty, King Abdallah II of Jordan, Honoring Naouri Group's Chairman, Mr. Ibrahim Naouri with the King Abdullah II Ibn Al Hussein Order for Distinction of the First Degree
His Majesty, King Abdallah II of Jordan, honored Naouri Group with the King Abdullah II Ibn Al Hussein Order for Distinction of the First Degree, in recognition of its contributions to support the economy and its role in establishing economic projects in logistics, shipping, tourism and travel, as well as its efforts to provide job opportunities for Jordanians and support local communities.

The group played an important role in providing employment opportunities for Jordanians, adding to the Group's role in community development and supporting national initiatives in the framework of its social responsibility.

Naouri group was founded in 1994, and today is one of the leading companies in the region in the field of logistics, warehousing, shipping and clearing services, as well as travel and tourism services.

Not to mention, the group employs more than 1000 employees in Jordan and Iraq, and all as one team, committed to providing smart, effective solutions to customers.

Naouri Group is keen to fulfill its responsibilities and obligations to the Jordanian society through its social responsibility programmes as well as its national supporting initiatives; such as providing scholarships to children of employees at colleges and universities, as well as supporting individuals with down syndrome though providing professional training for their better involvement in society.

The group has more than 55 offices in Jordan and Iraq, and considers its presence in Jordan as a promising investment climate, for it attracts investors and businessmen from all around the world; and therefore it focused all its major investments and economic activities in the country.