Jordan: France supports education, professional training for Iraq refugees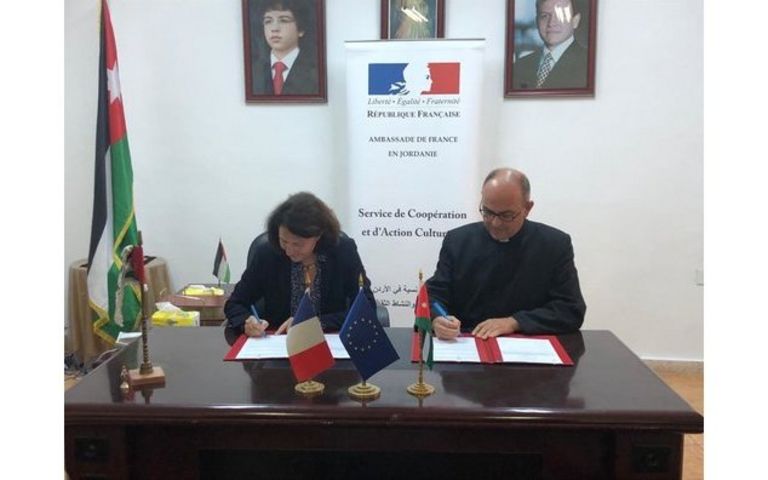 Ambassador of France to Jordan Mrs. Véronique Vouland-Anieni signed two agreements on November 22 and 23, 2019 to finance supporting the Iraqi refugees in Jordan.
The two agreements, worth 415,000€, are directed towards Habibi Valtiberina Association and Caritas Jordan. They are designed to provide education for Iraqi children as well as to support training and professional integration of Iraqi women since the majority of these refugees were forcibly displaced from northern Iraq and arrived in Jordan in 2014 in the wake of ISIS attacks.
Upon signing the two agreements, French Ambassador Mrs. Véronique Vouland-Anieni said, "The cultural and religious diversity is a key component in Middle Eastern societies." Referring to the activities supported by the French Embassy in Amman, she stressed that France is proud to fund educational projects, noting that "it is our responsibility to meet this basic need, which is of prime importance to the refugees."
The French-funded program to Caritas Jordan will enable enrollment of 153 Iraqi students in four Roman Catholic schools in the Kingdom for the 2019-2020 academic year. The French-funded program to Habibi Valtiberina Association has two goals, namely to allow 350 Iraqi children to attend private schools by holding classes for them in the afternoons at the Latin Monastery School in Northern Hashemi, and to support Iraqi female refugee financially by offering them vocational training in sewing. The Habibi Valtiberina Association will employ 20 Iraqi women for a year in the sewing workshop at the association's headquarters in Jabal Amman. The students benefiting from both programs will also be given the chance to learn French.
Both programs are supported by the fund affiliated with the Ministry of Europe and Foreign Affairs which is dedicated to victims of violence based on race and religion in the Middle East. This fund was established on September 8, 2015 at the Paris Conference, co-chaired by France and Jordan. Apart from France's commitment to preserving cultural and religious diversity in the Middle East, these two projects reflect France's continued commitment to stand by Jordan in the wake of the Iraqi and Syrian refugee crisis.