Companies news
A Strategic partnership between Orange Jordan and Luminus ShamalStart to launch the first project of its kind in the kingdom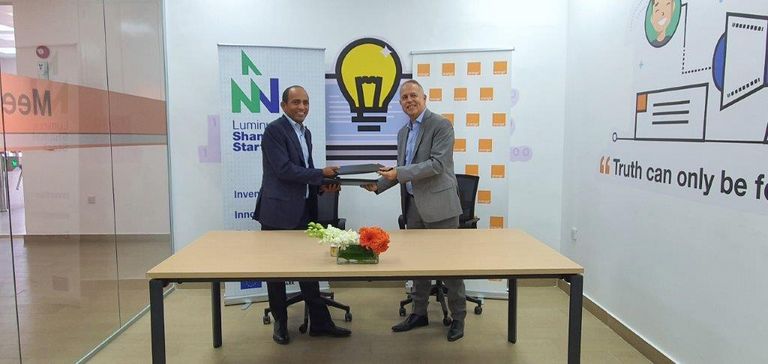 Orange Jordan
In line with its initiatives aiming at enhancing the concept of Training for Employment, Orange Jordan has signed a partnership agreement with Luminus ShamalStart with the support of Orange Foundation in Paris to launch the Mobile FabLab, which is considered to be the first of its kind in the Kingdom and aims to train youth in the governorates on modern digital manufacturing methods.
In a press release issued by the company, Orange Jordan said that France Orange Foundation's support and sponsorship for this project falls in line with its vision to support digital projects that aims to support youth and motivate them to learn different skills, who will then accelerate the process of digital transformation in the Kingdom, noting that its support for the lab falls within its Solidarity FabLab program that has supported by now nearly 90 laboratories in 16 countries across the world.
Orange Jordan also affirmed that its partnership in this digital project that will be executed by Luminus ShamalStart is one of its active participation in many initiatives and projects that fulfills the objective of the digital economy and youth's support, through providing them with a suitable training environment to provide them with technology-based technical skills needed by the local labor market. This strengthens the company's position as one of the most important contributors in reducing the unemployment rate among youth in different governorates across the Kingdom.
The Mobile FabLab has the features of fixed digital manufacturing laboratories, distinguished by the dynamism of being easily moved from one place to another, to ensure that those who want to learn digital manufacturing are connected to the essential tools and skills to facilitate their way in creating jobs using the latest digital means. The Lab was developed by equipping a shipping container with digital manufacturing tools similar to the ones found in Digital Manufacturing Laboratories but with a smaller scale to facilitate its movement.
The training program that will be applied at the Mobile FabLab is based on the FAB Academy program, is used by Fab Lab Irbid and is part of the Fab Foundation umbrella, managed by Neil Gershenfeld from Bits and Atoms Center at the Massachusetts Institute of Technology. Beneficiaries from the Mobile Fab Lab training program will receive a Mini Maker Diploma after the end of the program's duration, which will qualify them to work in different areas of digital manufacturing.
Luminus ShamalStart is a project established by Luminus education in 2016, Funded by the European Union and in partnership with the Royal Scientific Society (RSS), to accelerate business and investment in the initial stages of projects in the northern Jordanian area. The project has delivered more than 20,000 operational hours of digital manufacturing in its FabLab/ Irbid laboratory, one of the world's 20 largest labs and the first of its kind in Jordan.