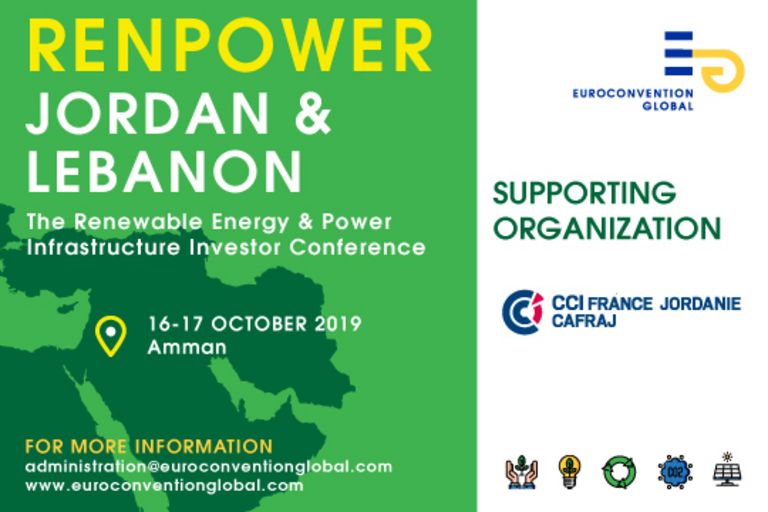 RENPOWER Jordan & Lebanon 2019 : The Renewable Energy, Power Infrastructure & Energy Efficiency Investors Conference
Dates: October 16-17, 2019
Venue: Sheraton hotel in Amman
Languages: Arabic and English with simultaneous translation
A leading marketplace and networking venue for exchanging ideas between the key local stakeholders and market participants. The event will focus 100% on the current development in the sector for both Jordan and Lebanon – highlighting government initiatives, investment potential, international cooperation, funding strategies as well as regulatory and institutional framework.
More than 35 speakers – Officials, experts and private sector will discuss the scaling up of renewable energy in Jordan and in Lebanon by 2020-2025. Government representatives, policymakers, International Finance Institutions , international and local developers, EPCs, IPPs, technology providers and engineering, manufacturers, legal and advisory services, banking and private equity entities will all gather during two days in the most dedicated informative and B2B platform.
A wave of business opportunities - Business partnerships, exchange of know-how, latest technology, investing in and financing of the sector will be the central focus of this major calendar event.
More information – Please contact Michel Masquelier at: administration(@)euroconventionglobal.com
As a Member of CAFRAJ, you are entitled to receive a 15% discount on the registration fee and corporate packages rates.
Event Location
Sheraton Amman Al Nabil Hotel,
5th Cir., Amman 11184