Companies news
The Comprehensive Internal Audit Management System 'ComplyOne' Digitizes the Saudi's SPCC Internal Audit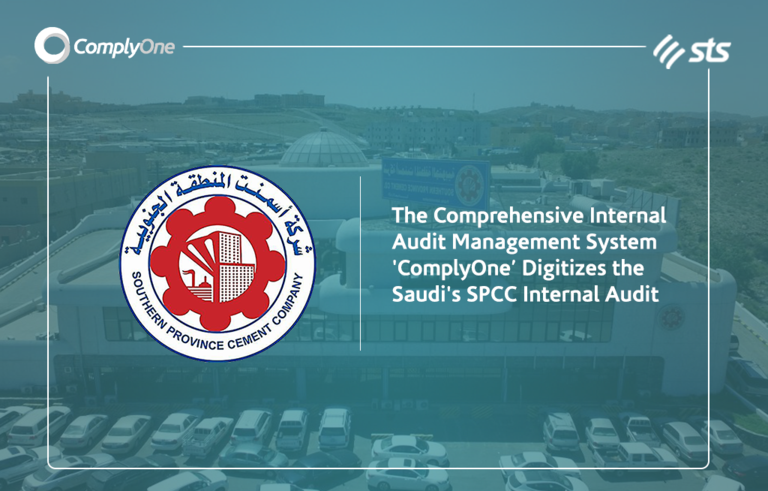 Amman, Jordan, June 2021
STS, the leading provider of IT, Cloud and Digital Transformation Solutions in Jordan and the region, announced that it has fully automated the internal audit system for the Southern Province Cement Company (SPCC) in Saudi Arabia, utilizing its "Comply One" system which specializes in providing a comprehensive, digital internal audit management system. by providing it with the localized version of 'ComplyOne' the comprehensive Internal Audit Management System.
Fully developed by STS; the system implemented was in line with SPCC's commitment to achieving a competitive advantage in its customer's offering, and digitally transforming its auditing work-flow, while ensuring the adoption of specific standards of quality and processes, tracking annual growth and development paths, without needing to resort to manual and unregulated work procedures.
It is worth mentioning that the process of studying the requirements and implementing the project to achieve full digital transformation of SPCC's internal audit system for did not exceed the period of three weeks, due to the maturity of the internal audit processes at the company and the existence of specific standards and efficient operational workflow charts, which accelerated the process of implementing the system and identifying the required standards and plans. Also, their team was trained on using the system in record time due to STS's extensive experience in this field.
SPCC management and the internal audit team confirmed their satisfaction with the system's performance, and highlighted how the system was specifically designed to perfectly fit the needs of the Southern Province Cement Company. and said: "During the implementation of the project, we did not feel that we were working as two separate teams or that we were dealing with a regular company, with STS, we were one team of a strong caliber where high level of professionalism and advanced expertise were visible."
As for STS's Director, Software Products and Services, Raed Hasan, he emphasized on the depth of the company's partnership with the Southern Province Cement Company as a leading entity in the field of digital transformation in Saudi Arabia, and confirmed on STS's commitment to providing the latest information technology solutions to its customers across different sectors to fully support its customers during their journey towards digital transformation.
---
About STS
Specialized Technical Services Company (STS), Jordan's leading ICT and Digital Transformation solutions provider, through its bold leadership, innovation and long field expertise since 1989, is confidently contributing to the digital transformation scene in the kingdom and the region. STS's success is driven by a commitment to delivering a peerless Digital Transformation journey to its clients, and has expanded its offerings to embrace digital infrastructure containing advanced cloud solutions and managed services, cyber security offerings that is backed up with an advanced security operations center (STS SOC), training and licensing. Likewise, STS constantly strives to elevating digital experience throughout its offerings ranging from digital customer experience, digital workplace solutions and business intelligence BI services.
Through its long-standing partnerships with industry leaders such as Cisco Systems, Dell Technologies, IBM, Microsoft, Oracle, and multiple others, STS continues to serve multiple industries in financial, governmental, health, educational, telecommunications, and other commercial sectors in the MENA region.
Visit our website: www.stsarabia.com
STS Offices:
Amman, Jordan (HQ)
Riyadh, KSA
Dubai, UAE
Manama, Bahrain
Ramallah, Palestine
Baghdad, Iraq
Media Contact:
Bara Al Sharaireh
Bara.alsharaireh(@)stsarabia.com
+ 962 799 3184 60