Companies news
Orange Jordan Sponsors the Media Competition for the causes related to persons with disabilities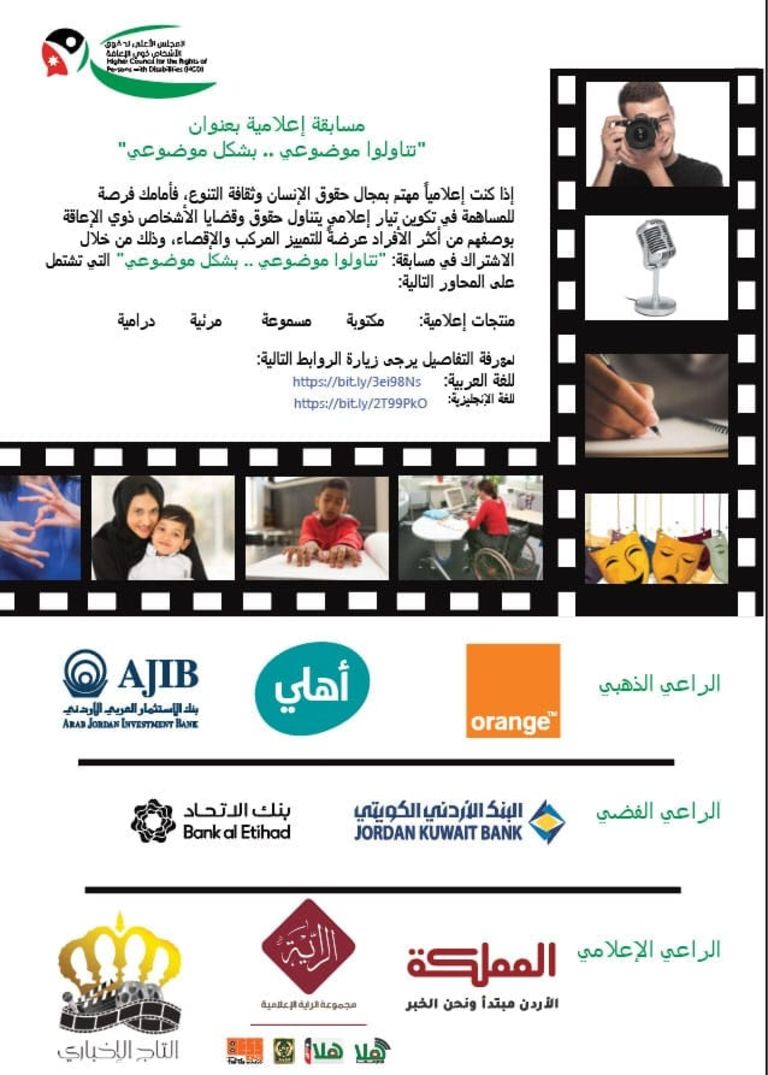 Orange Jordan announced sponsoring the competition that was launched by the Higher Council for the Rights of Persons with Disabilities, under the patronage of the Council's President, His Highness Prince Mired bin Raad, to increase awareness of the rights of persons with disabilities and motivate media representatives to address their issues from a human rights perspective, in addition, to encourage creative and media pieces that contribute to awareness regarding the rights and issues of persons with disabilities and their inclusion in society.
Deputy Chief PR, Corporate Social Responsibility and Corporate Communication Officer, Eng. Rana Al - Dababneh affirmed the importance of this competition in enhancing the positive image for the persons with disability in the Kingdom, noting that Orange Jordan is keen to sponsor the competition in addition to various awareness initiatives, due to the importance of media and educational role to contribute in changing the stereotypical perspective and empowering persons with disabilities, as part of its extended partnership with the Higher Council for the Rights of Persons with Disabilities.
Al - Dababneh also noted that digital inclusion is one of the company's priorities, to include sustainable services, solutions, and initiatives that enhance the contribution of persons with disabilities and shed the light on their achievements and active roles in society, under the company's umbrella "Differently Abled, Definitely Enabled" as part of the company's CSR strategy.
The competition includes 4-pillars; visual, audio, written media, and drama, where the participants will be evaluated by a jury of experts in the field of human rights and media to select three winners from each pillar, the first winner will receive JD 2500, while the second winner will receive JD 1,750, while the third winner will receive JD 1,000.
It is noteworthy that the winners will be announced at the beginning of next December in conjunction with the International Day of Persons with Disabilities, and those interested in participating can check the details of the competition through the link: https://bit.ly/3zhy5QT .
---
About Orange Jordan
Orange Jordan is a leading provider of integrated communications services, with a broad lineup of fixed, mobile, internet data, and managed digital services to meet personal and business markets needs of an expanding total base of about 3.2 million customers across the Kingdom. Over 1600 employees are dedicated to lead the company to ultimate levels of excellence. In 2007, the fixed line, mobile, and internet subsidies rebranded to Orange.
The company offers the best network, innovative digital solutions with unmatched customer experience by empowered Orange teams, to be the responsible digital leader in Jordan.
With massive investments in infrastructure and services, the company continues to move forward by introducing the most advanced technologies across the Kingdom, becoming the responsible digital leader in the kingdom.
Orange Jordan is one of Orange Group's subsidiaries that offer a wide range of communication services not only to individuals but also to businesses under the brand Orange Business Services (OBS), through which a comprehensive set of IT and telecommunication services are offered to multinational companies.
The company takes pride in seven core values: transparency, agility, results oriented, customer centricity, collaboration, caring and excellence.
Through its comprehensive corporate social responsibility strategy, Orange Jordan continues to make sustainable impact on the lives of Jordanians and their communities by focusing on 3 main pillars: digital education, digital inclusion and entrepreneurship.
To learn more about us, please visit our website: www.orange.jo
About Orange Group
Orange is one of the world's leading telecommunications operators with sales of 42.3 billion euros in 2020 and 142,000 employees worldwide at 31 December 2020, including 82,000 employees in France. The Group has a total customer base of 259 million customers worldwide at 31 December 2020, including 214 million mobile customers and 22 million fixed broadband customers. The Group is present in 26 countries. Orange is also a leading provider of global IT and telecommunication services to multinational companies, under the brand Orange Business Services. In December 2019, the Group presented its new "Engage 2025" strategic plan, which, guided by social and environmental accountability, aims to reinvent its operator model. While accelerating in growth areas and placing data and AI at the heart of its innovation model, the Group will be an attractive and responsible employer, adapted to emerging professions.
Orange is listed on Euronext Paris (symbol ORA) and on the New York Stock Exchange (symbol ORAN).
For more information on the internet and on your mobile: www.orange.com, www.orange-business.com or to follow us on Twitter: @orangegrouppr.
Orange and any other Orange product or service names included in this material are trademarks of Orange or Orange Brand Services Limited