Companies news
Orange Jordan receives "Top Employer" Certifica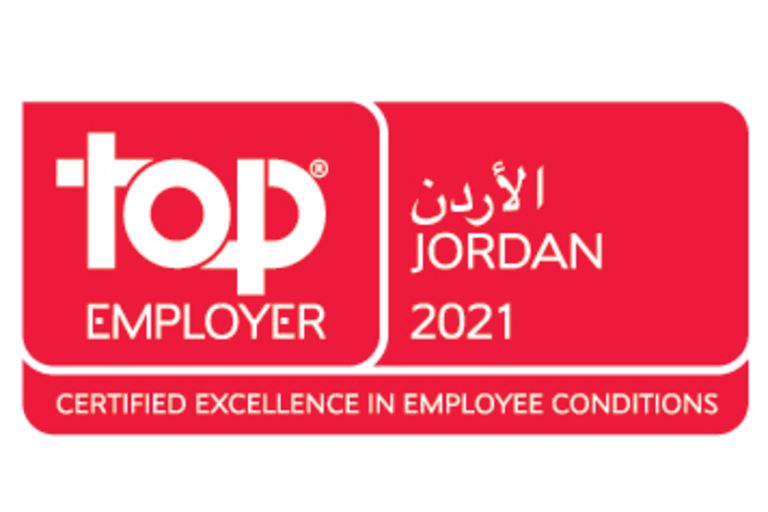 For the sixth consecutive year, Orange Jordan was awarded the Top Employer certificate for 2021, by the Top Employer Institute, based on the results of a comprehensive and integrated evaluation, to distinguish Orange Jordan among several companies applying for this global certificate.
The top employer Institute annually organizes a program; to certify employers from the institutions that prove their success in creating an outstanding work environment, and provide the best opportunities for development and benefits for their employees, by analyzing the information collected from the candidates and comprehensively researching all aspects and factors of the internal work environment.
Orange Jordan's Chief Legal, Regulatory, Sourcing, Supply Chain & Human Resources Officer, Dr. Ibrahim Harb, expressed the company's pride in receiving this international recognition for sixth consecutive year, reflecting its efforts in implementing best practices and policies related to human resources such as talent management, leadership capabilities, training and development.
Orange Jordan continues to enhance employee skills and professional growth opportunities, ensure the best workplace experience, and cater to employee needs and interests, in order to build the company of tomorrow under the Orange group strategy, Engage 2025, Harb added.
Harb also noted that Orange Jordan's internal efforts are part of the company's excellence standards and outstanding role as the responsible digital leader in the kingdom.
---
About Orange Jordan
Orange Jordan is the leading provider of telecommunications services in Jordan, with an ever-growing customer base of subscribers and a comprehensive portfolio of fixed, mobile and internet services. Additionally, Orange Jordan is Kingdom's first in providing advanced business solutions such as security services, managed services, cloud computing and Internet of Things.
As part of its corporate strategy, Essentials 2020, launched in 2015, the company remains committed to connecting people to all that is essential to them. In order to fulfill this commitment, the company introduced a new era of connectivity solutions with Next-Generation-Networks (NGNs) in the form of Fiber-to-the-Home (FTTH), Fiber-to-the-Business (FTTB), and for the first time in the country in the beginning of 2018, the latest version of the fourth generation network, 4G+ to offer ultra-high-speed internet to connect Jordanians to the future with the fastest internet available through the most advanced infrastructure enforcing its position as the provider of the strongest internet in the Kingdom. Orange Jordan is part of Orange Group, which is one of the world's main telecommunications operators. The company remains dedicated to supporting local organizations and sponsoring various events. To learn more, visit www.orange.jo
About Orange
Orange is one of the world's leading telecommunications operators with sales of 41 billion euros in 2018 and 148,000 employees worldwide at 30 September 2019, including 88,000 employees in France. The Group has a total customer base of 268 million customers worldwide at 30 September 2019, including 209 million mobile customers and 21million fixed broadband customers. The Group is present in 26 countries. Orange is also a leading provider of global IT and telecommunication services to multinational companies, under the brand Orange Business Services. In December 2019, the Group presented its new "Engage 2025" strategic plan, which, guided by social and environmental accountability, aims to reinvent its operator model. While accelerating in growth areas and placing data and AI at the heart of its innovation model, the Group will be an attractive and responsible employer, adapted to emerging professions.
Orange is listed on Euronext Paris (symbol ORA) and on the New York Stock Exchange (symbol ORAN).
For more information on the internet and on your mobile: www.orange.com, www.orange-business.com or to follow us on Twitter: @orangegrouppr.
Orange and any other Orange product or service names included in this material are trademarks of Orange or Orange Brand Services Limited.